The Clay Studio Residency Personal Statement
The McKnight Artist Residency for Ceramic Artists program, in its 21st year at NCC, intends to recognize and support ceramic artists whose work demonstrates exceptional artistic merit, who have already proven their abilities, and are at a career stage that is beyond emerging. The program is intended to provide these ceramic artists with an opportunity to be in residence for three months at Northern Clay Center, where they can develop their own work and, at the same time, exchange ideas and knowledge with Minnesota ceramic artists. Up to three, 3-month residencies will be awarded in 2018, to take place during the 2019 calendar year, through a competitive application process. NCC will invite one or two other artists through a nominative process.
Each resident artist will receive a $6,000 award (for a three-month residency), studio space provided at no cost, and a glaze and firing allowance. During the residency, each artist will present a public lecture/workshop, for which he or she will receive an additional honorarium. At the culmination of the grant period, recipients will be featured in a catalogue and group exhibition at Northern Clay Center. The exhibition will travel to 3 – 5 sites around the state of Minnesota. Recipients are also required to submit a final report at the end of the grant period.
The deadline to apply for the 2018 McKnight Artist Fellowships and Residencies for Ceramic Artists program is Friday, May 25, 2018 by 5 pm (this is NOT a postmark deadline).​
This program is made possible by the generous support of The McKnight Foundation, Minneapolis, MN.
Eligibility
You cannot be a resident of Minnesota.
You must be a ceramic artist. Your work may be either functional or sculptural in nature. Your work may incorporate other materials, but must be primarily ceramic.
You must have completed all formal academic training and may not be enrolled either full- or part-time in a degree granting institution by the application deadline. Applicants are NOT required to have a degree.
You must provide evidence of your professional achievements over a period of at least five years, through inclusion in major regional or national museum or gallery exhibitions, or juried or invitational craft shows, or receipt of other awards, grants, or fellowships.
Your work must demonstrate a sustained level of accomplishment, commitment, and excellence.
You may apply to only one of the organizations per year offering fellowship grants that are supported by McKnight funds. In addition, no artist may receive more than $50,000 in McKnight support in any three-year period.
Artists who have previously received a McKnight Artist Residency or Fellowship award in any discipline cannot apply again until three years after the date of their award. (A 2017 award recipient cannot apply again until the 2020 grant cycle.)
Northern Clay Center staff and board are not eligible, as well as immediate family members of Northern Clay Center staff.
Staff and board of The McKnight Foundation are not eligible, as well as immediate family members of foundation arts program staff.
Schedule and Application Process
The deadline to apply for the 2018 McKnight Artist Fellowships and Residencies for Ceramic Artists program is Friday, May 25, 2018 by 5 pm CST (this is NOT a postmark deadline).  The online system will not accept any applications beyond 5 pm CST, nor will incomplete applications be accepted. All applications must be received via our online form, however a copy of the eligibility requirements and application check list can be downloaded here.
Applications will be reviewed by a three-member panel, which will select recipients on the basis of perceived artistic excellence and demonstrated professional achievement. Applicants will be notified of the outcome of the selection process in late June of 2018.

For more information, contact Jill Foote-Hutton at jillfootehutton@northernclaycenter.org or 612.339.8007 x314.
You must submit the following:
The online application form.
Residency Proposal, Budget, and Outcome (maximum of 3 pages, formatted as a PDF). Please include a detailed description of your goals or projects for the proposed residency and budget for any necessary supplies or equipment. See sample applications for examples of budgets. In addition, describe the anticipated outcome or impact of the McKnight Residency and exhibition on your professional development.
10 digital images. Please do not display your name on the image. Images will be projected on the wall and viewed one at a time. Image files should be labeled with last name, first initial, and numbers indicating your preferred viewing order (example: doej1.jpg). Do not include any other information in the filename. Digital images must be saved as JPGs at 96 pixels per inch (ppi) and should not measure greater than 1024 pixels along the image's longest dimension. For additional information regarding image size and format, please visit our digital image submissions page.
Image list for all digital images. The image list must include artist name, titles, date of work, dimensions of work, medium, and image orientation, and should be formatted as a PDF.
A current resume (maximum of five pages formatted as a pdf), with your name at the top of each page.
An artist statement (maximum of two pages formatted as a pdf), with your name at the top of each page.
Please review our tips for using our online forms, and review other FAQs here.
Download sample application from past recipients:
call for artists: John Michael Kohler Arts Center Arts/Industry Program
by Carole Epp | Feb 2, 2018 | residency opportunity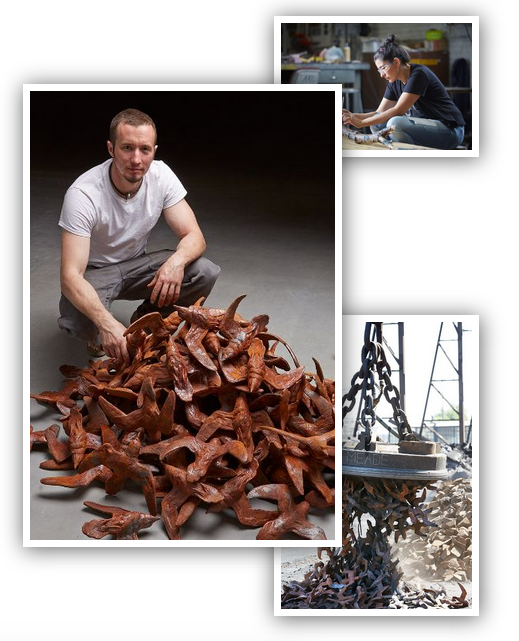 Artists working in any discipline may apply for the Arts Center's Arts/Industry 2019 program, which takes place at and is funded by Kohler Co. in Kohler, Wis. Each year, 16–22 artists are accepted for 2- to 6-month residencies in the Pottery or Foundry/Enamel areas of the factory. Artists-in-residence receive 24-hour access to studio space, materials, use of equipment, technical assistance, photographic services, housing, and round-trip transportation. The application deadline for 2019 residencies is May 31, 2018. For more information and application form, visit https://www.jmkac.org/explore-discover/arts-industry-program/applications or email artsindustry@jmkac.org.
Applications for 2019 residencies will be accepted February 1–May 31, 2018 online only at https://jmkac.submittable.com/submit
Harvard Ceramics looking for a new Artist-in-Residence
by Carole Epp | Mar 22, 2016 | Uncategorized
About the Artist in Residence Program
Application Deadline: April 15, 2016
Notification of Residency: May 9, 2016
Residency Dates: September 1, 2016 – August 31, 2017
The Artist in Residence Program through the Ceramics Program, Office
for the Arts at Harvard, offers dedicated artists the opportunity to
involve themselves in research and growth, pushing their art in new
directions in a dynamic, urban studio connected to the Harvard
community. Individuals will have the opportunity to build relevant
skills in research, professional development, technical ability,
creative problem solving, teaching and community involvement through our
Artist in Residence Program.
The Artist in Residence Program offers
Personal studio space (60 sq. ft.) in addition to use of common studio space
7 day studio access
Free access to materials – clay, glaze and use of kilns (electric, saggar, wood fire, soda and gas) up to excess
Opportunities to take classes and firing workshops within the program
Paid teaching opportunities within the program
Solo exhibition in Gallery 224 of work completed during residency
Attend visiting artist workshops and symposium offered within the program
Exhibition/sales opportunities in two annual Show and Sales
Access to studio equipment including slab roller, extruder, spray booth, plaster mold-making room and glaze mixing area
Access to studio lighting and background material for documenting work
Website visibility
Access to Harvard University Library and Museums with provided ID.
Expectations of Artist in Residence
One year commitment
Must spend 20 hours/week of time dedicated to personal work
Must spend 5 hours/week dedicated to work within the program
One public workshop presentation
Provide presentations to classes
Participation in program events and special projects with the Harvard Community
Artist is asked to leave one work for the permanent collection
Responsible for own housing
Application Process
Application can be submitted via hardcopy or provide us with a
link to an on-line, downloadable, file-storage site (i.e. Dropbox):
Resume with personal contact information
Artist statement
Personal statement that reflects your reason for applying to the residency program
10 digital images, plus one optional detail per image. Files in jpeg
format at 300 dpi, with images' longest dimensions exactly 7
inches/2100 pixels. Each image should be labeled with the following
format:
image number_first initial_last name (example: 1_j_smith.jpg, 2_j_smith.jpg, etc.). Images will be used for promotional purposes upon acceptance to the program.
Corresponding image list. List should address each image by number
in terms of: title, year, size of work, medium/techniques used.
Work should be current and completed within the last 2 years
List of 3 references – please provide, name, title, mailing and email address and telephone.
No discs will be returned if sending hardcopy
THERE IS NO FEE FOR APPLICATION
Notification will be made via email
Send invitation to online, downloadable file storage site:
Kathy King, Director of Education, at kking@fas.harvard.edu
If sending hardcopy, mail to the following address:
Ceramics Program, Office for the Arts at Harvard
Attn: Artist in Residence Program
224 Western Avenue
Allston, MA 02134
Important Dates
April 15, 2016 – Application materials must be submitted
April 25 – April 29, 2016
– Finalists will be notified to arrange a phone/Skype interview with
Co-Directors Kathy King, Director of Education and Shawn Panepinto,
Director of Operations.
May 9, 2016 – Notification will be made via email.
May 30, 2016 – Selected artist must accept or decline the residency.
All interested individuals are welcome to visit the Ceramics Program
prior to application and or acceptance. To arrange a visit and receive
more information, contact Kathy King, Director of Education at kking@fas or Shawn Panepinto, Director of Studio Operations and Outreach at panepint@fas or call 617-495-8680.